Meet A Hero, Be A Hero: HateBraking 101
HateBrakers are usually modest people, more doers than explainers—which may explain why they are often so effective. They don't go on talk shows to preen. They don't even see themselves as remarkable. They simply wouldn't be able to live with themselves if they'd acted otherwise.
Since most stories of hate crimes end when the hate gets quiet we provide follow-up stories about hitting the brakes on hate. We believe that, the more people become acquainted with such cases, the more and more common the gesture of Hatebraking will become.
Using video interviews appropriate to provide audience with role models, HateBrakers created Meet A Hero, Be A Hero: HateBraking 101 program, in which videos that are a part of the educational material allow kids to become immersed and actively involved by breaking down and dissecting the importance of what the interviewees accomplished. In addition, to promoting conversation between students and their peers in which, as a class or group, they become more apt to continue the discussion about sensitive topics like racial tension.
HateBrakers created a hundred page educational guide that provides lesson plans and group activities after each video. Our Meet A Hero, Be A Hero: HateBraking 101 program may help to prevent the next school shooting, motivated by hatred.
Contact us if you would like to have a sample of this wonderful educational program. 
HateBraker Interviews
Videos that are apart of the educational material in which allow kids to become immersed and actively involved by breaking down and dissecting the importance of what the interviewee accomplished.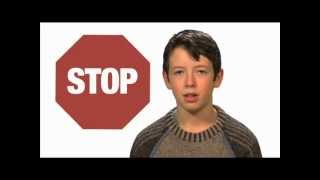 Pre-Lesson Lesson
Olive Mukabalisa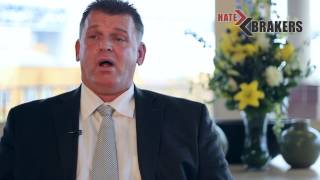 Robert Pearl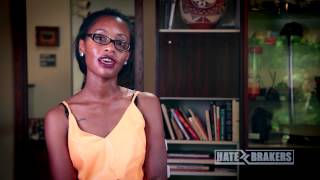 Morgan Bradley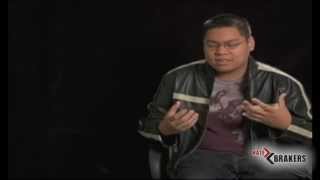 Justin Raymundo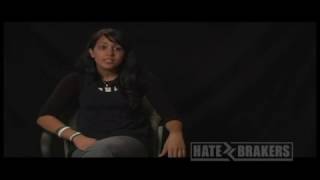 Suzanne Yatim Aslam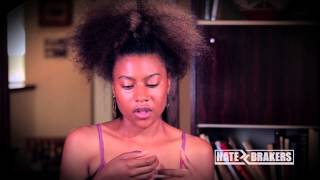 Jon Alexander and Asha Hornaday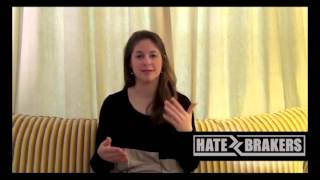 Annie Kopp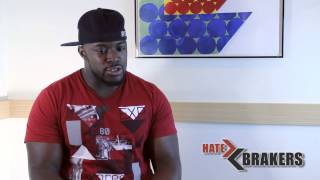 Willie 'Dyce' Dyson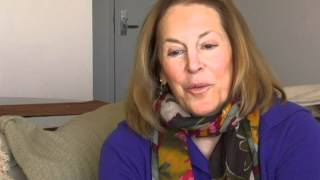 Sondra Perl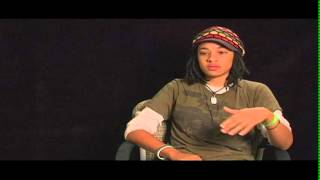 Graie Barasch-Hagans (Formerly Angela)
Emira Larson
Olive Mukabalisa

At the age of seven, Olive witnessed the murder of her entire family during the Rwandan genocide, in 1994 Central Africa. She has returned to help heal both targets- the Tutsis- and the perpetrators-the Hutus- who were in power at the time. For Olive, telling her story is incredibly meaningful and an important step in the healing process after something as horrific as Genocide. She strives to return back to her country to work with children and better it in all of the ways she can. In 2013, Olive received the HateBraker Heroes Award.

Robert Pearl

Robert joined a gang at a very young age. This gang was a group of "skinheads" who based their actions on racism and bigotry, not on turf. Skinheads terrorize and torture African Americans, Jews, and other ethnicities that are not Christian and Caucasian like them. Another characteristic of skinheads is that this racist affiliation that is often passed on from generation to generation. After serving his jail sentence for his crimes, Robert became part of a unique prisoner rehabilitation program called Delancey Street Foundation. The program opened his eyes, his mind, and his heart. For the rest of his life, Robert wants to reach young people so that they don't waste time hating, like he did. Robert wants to teach young people that everyone deserves respect and the chance to be seen as a human being.

Morgan Bradley

Morgan Bradley, member of HateBrakers and panelist for Project Take-Back talks about the spectrum of being bullied, to becoming a bully, and the lessons learned in overcoming the cycle. Morgan is also a Facilitator of "Meet A Hero, Be A Hero: HateBraking 101 - a course for high school students, currently being piloted in St. Louis, Missouri.

Justin Raymundo

Justin grew up from a childhood defined by narrow racism and has become a leader of social justice in his adulthood. In high school, Justin was bullied about his race, size, and sexual orientation. Rather than the typical physical bullying, Justin's perpetrators verbally taunted him and dismissed his leadership and achievements. Justin is now a leader of social justice.

Suzanne Yatim Aslam

Suzanne is Palestinian-American and experienced bullying as a child after 9/11. These experiences inspired her to become passionate about Human Rights and children and to study Human Rights at Webster University. She has traveled to Palestine with Christian Peacemaker Teams, an organization that seeks to rectify injustice in non-violent ways.

Jon Alexander and Asha Hornaday

Asha and Jon both grew up near Ferguson, MO. They share their experiences in the community, as well as their efforts to give young adults a voice through Project Take-Back. By sharing and speaking out, they hope to encourage peace to help bring fairness into the community as they deal with the tragic death of Michael Brown.

Annie Kopp

Annie experienced bullying as a new student in a St. Louis County, MO high school. Annie's story highlights the role of bystanders and the impact of bullying had on her relationships with school, peers, and teachers. Annie decided to use her experience as a victim by using it as inspiration to help others struggling to fit in.

Willie 'Dyce' Dyson

Willie Dyson's mother abandoned him when he was six weeks old. He was frail and sickly when the white couple who fostered him was told he would never walk. Through their healing care he not only thrived, he went on to college with a football scholarship. His professional music video "No Color" captures the raw and real story of his struggle and his effort to build social support for inter-racial adoption.

Sondra Perl

Sondra is a prize-winning professor at Lehman College and the Graduate Center of the City University of New York. Her desire to explore the difficult subject of the Holocaust began when she was invited to teach in Austria, a journey she chronicles in On Austrian Soil: Teaching Those I Was Taught to Hate. Ever since, she has been involved in post-Holocaust dialogue with members of the second and third generations in the United States and in Europe.

Graie Barasch-Hagans (Formerly Angela)

Graie grew up in a North St. Louis home affected by addiction and a neighborhood affected by violence. Graie graduated from Webster University and is now working as a Tutor Facilitator and Parent/Community Engagement Coordinator at a school in New Orleans.

Emira Larson

Emira Larson went from being a care-free teenager growing up in Bosnia, to a worldly aware adult after witnessing the horrors of war in her country.